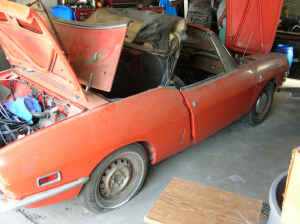 An oldie from the depths of our surprisingly large archives. -PD
Welcome back to HHCIB, a game show in which you could win a giant box of suck a diamond in the rough needing only five gallons of gas and a match a new home and some elbow grease. In today's episode we offer up a Fiat 850 Spider of indeterminate vintage. We only know it is not a 1967 because it doesn't have glass-covered headlights.
More after the jump.
I have a special fondness for these little tubs. My dad and my best friend's dad both had 850s when I was very young. They used to wrench on them every Saturday morning while the moms went shopping. You see, when you use a Fiat 850 as a daily commuter you kind of have to do that.
The Craigslist seller is quite to the point: "As you can see from the photos there are cosmetic issues, but I'm told the engine runs well."
He's told the engine runs well. Who told him that? The ghost of Gianni Agnelli? By the way, that's it for the description. He doesn't even give a phone number, probably for fear of having a voice mailbox full of hyena laughter.
Coming from a breeding ground for ferrous oxide a dry, salt-free place like Minnesota, we can assume the cosmetic issues will buff right out. The tires appear to hold air. It even comes with the very rare blue factory rag to cover the engine. I'm sure the missing parts are on intergalactic backorder are in the boxes shown in the background.
The seller must have been laid off or is otherwise in dire financial straits. Why else would he drop the price from $2000.00 to $1000.00 in the span of three days?