It would be too easy to assume that Ross Brawn, despite the driver in the seat, is a sufficiently brilliant strategist to conjure up Formula 1 victories from nothing more than willpower. Mr. Brawn is that special. To say nothing of his newest driver, one fourty-one year old Michael Schumacher, the umpteen-time World Champion. Reuniting those previously-Maranellan forces alone should be enough to convince you that Mercedes GP should be taken very seriously. But to assume that those two alone will win the Championship would be to miss something much bigger.
This bigger something is the company which derives its name from the granddaughter of a Hungarian rabbi, a particular that Adolf Hitler was evidently unaware of as he paraded around 1930's Germany in his heavily armoured 770K Mercedes.
Mercedes-Benz has only ever fielded a Formula One team during two distinct periods in the company's history: 1934-9 and 1954-5. To say that either period was simply "successful" for the German racers would be a gross and flagrant understatement. You might have heard the term "Silver Arrows" in reference to the frequently victorious German cars from these eras, but Mercedes wasn't the only manufacturer being supported by the Third Reich to build these superlative cars, Auto Union also used aluminum bodies that gave the cars their naked silver colour. Up until 1934, German cars had always been painted white, but legend has it that painting the cars was deemed frivolous as engineers scrimped weight to keep under the new 750kg Formula 1 limit.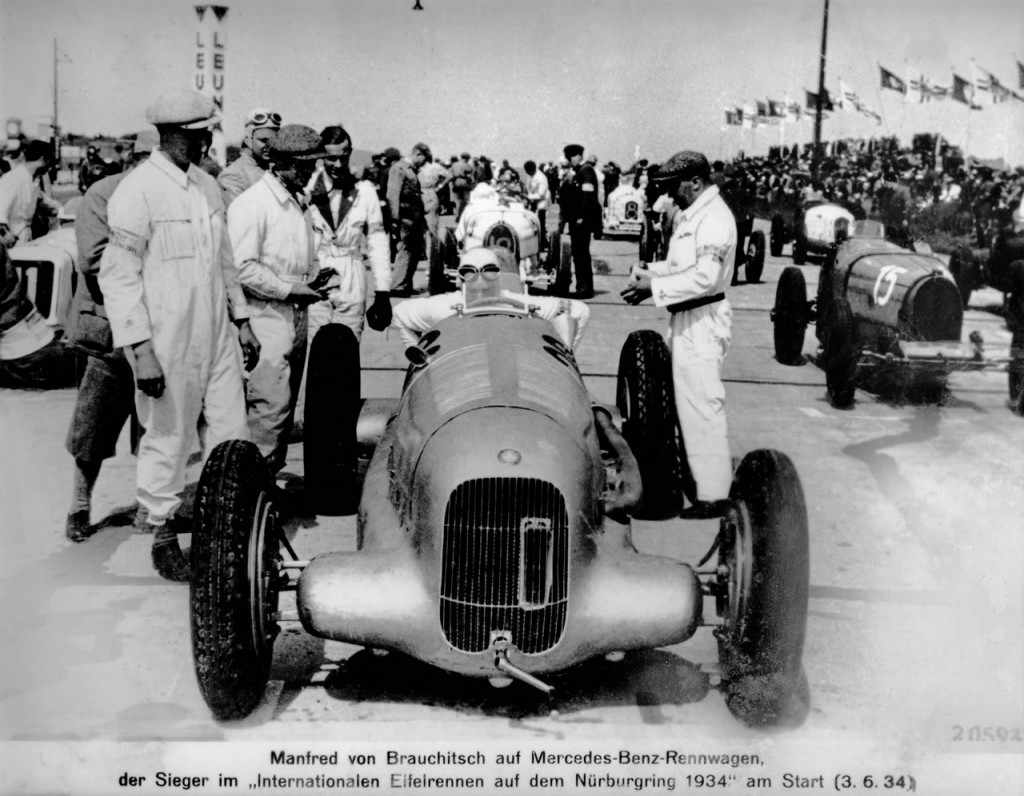 From 1934-6, the Mercedes W25 racer employed a marvellously sophisticated suspension system that perfectly accompanied the prodigious output of the supercharged straight-eight engines. Ok, so perhaps a swing axle with transverse quarter elliptic springs in the rear and double wishbones with coil springs up front might seem archaic and antiquated today, but it was arcane and avant-garde at the time. Some of this advanced motorsports technology also made its way into Mercedes production vehicles of the same period, such as the sensational Friedrich Geiger-designed 500K (W29). The W25 was successful in its first two campaigns but was usurped by Silver Arrow compatriot Bernd Rosemeyer in his Auto Union during the 1936 season.
Nineteen thirty-seven saw the introduction of the Mercedes-Benz W125 racer to Formula 1. The W125 was not simply a slight improvement over the W25, it was a shot into the thermosphere to rival Gagarin's. Utilizing a De Dion rear axle, Ferdinand Porsche's patented torsion bars, and front suspension longitudinal compliance afforded by coil springs and independent wishbones, the W125 had the roadholding to match its 646hp 5.7L supercharged straight-eight. The car was so dominant in the hands of Rudolf Caracciola (who won 3 of the 4 races he entered) and Manfred von Brauchitsch (who podiumed in all three races he completed) that the Formula was changed to limit engine capacity to 3000 cc for the 1938 season.
Not so easily detered, Mercedes persisted in Formula 1 and developed a 425hp 3.0L V12 with 2-stage supercharging to replace the nearly-doubly-large eight of the W125. The racer that saw the first fitment of this new engine was dubbed the W154. Like the W125 before it, the W154 was also a clean-sheet redesign, although it did use a similarly stiff nickel-chrome molybdenum tube chassis. Again, this Mercedes racer was crushingly successful, winning fully 50% of its races and proving to be a dominant force over Auto Union's Type D. For 1939, just before Nazi Germany invaded Poland, Formula 1 races continued with Hermann Lang in his W154 winning two out of four races entered. Rudolf Caracciola in his W154 won one of the remaining two European Championship races and finished second in one other. As the Second World War broke out and Germany refocused its technological and engineering efforts away from motorsports, Hermann Lang was left with the most point for the season, making him the unofficial Champion.
Without the tireless work of Nobel Peace Prize winner George C Marshall, the motor industry of mainland Europe would have taken much longer to recover after the Allies triumphed. Although nor should the financial support provided by the accumulated wealth of 6 million exterminated Jews (held in prudently lodged Swiss bank accounts during the war) be underestimated. With both these factors, oh how it recovered. In 1954, Mercedes-Benz returned to Formula 1 mid-season with its first naturally-aspirated racer, the W196. With a fuel-injected 2,499cc straight-eight developing 257hp, Juan Miguel Fangio and Stirling Moss steered the W196 (pictured above) and W196 Type Monza (an open-wheeled body used for the last ten races of the campaign) to nine victories in only twelve races between the 1954 and 1955 seasons, with Fangio alone taking 88.9% of the wins for Argentina and Mercedes. Mercedes withdrew from all motorsports, including Formula One, after the horrific magnesium, gas, benzene and alcohol explosion at the 1955 24 Hours of Le Mans that claimed the lives of 80 spectators and Mercedes driver Pierre Levegh (née Bouillon).
So, you see, Mercedes-Benz does not affix its name to a racing team lightly. Despite the slew of young talent, shrewd strategists, and more recent experience of other teams, one venerable manufacturer is back for the first time in 55 years to wage psychological warfare on the competition. You should care (and worry).
Mercedes returns to Formula 1 on March 14 in Bahrain.
[Photo credits: Flikr/Randy52, Blitz.bg, eMercedesBenz, autowallpaper.de]
[Sources: Drive On! a social history of the motor car, Peter Orosz, Wikipedia]