By Stirling Matheson
Honda has always been about four million times more interesting than their chief competition at Toyota. If Toyota releases a Matrix XRS, that just means that when you corner hard the suspension gives up and you destroy that fancy body kit (I've done this). When Honda makes a Civic Si, they make a Civic that looks faster, and be faster. Honda's engines are sporty and high-revving, and they actually know how to make a car go around corners quickly. At first glance, the Civic Si should be a great alternative to the VW GTI. But is it?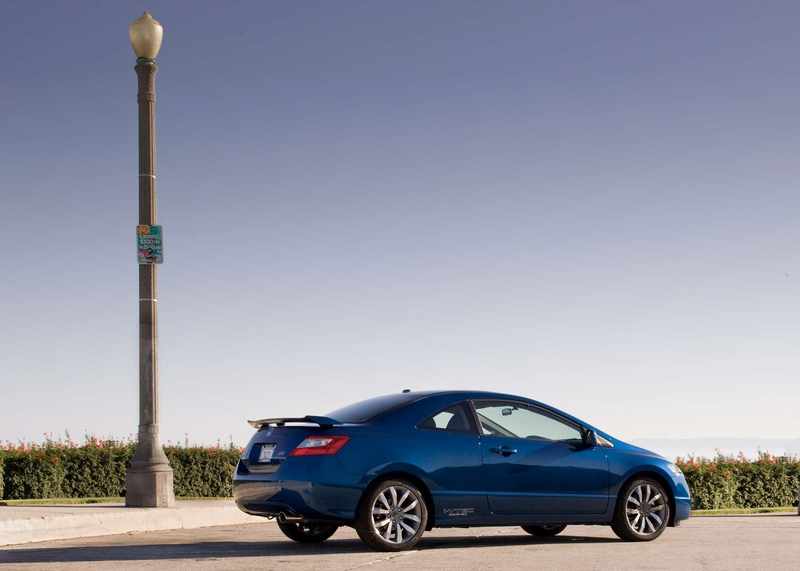 This car is a absolute blast to drive well over the speed limit on a twisty road. The steering has a nice, direct feel to it, and for a front wheel drive car, there is very little understeer. It even has a proper limited slip differential, allowing one to really stomp on the fun pedal at just about any time. Heel and toe downshifting is made easy by the well spaced pedals, and the engine revs to an absolutely mind-blowing 7800rpms. Honda has certainly injected some sportiness into the otherwise average Civic. The car even posts a respectable 0-100 of 6.7 seconds.
The coupe I had for the week was a bloody good looking car as well. Except for the "i-VTEC DOHC" printed on each side of the car, it looked clean and sophisticated yet still sporty. The spoiler added a lot to the look of the car, but luckily wasn't huge and ridiculous like the previous generation Subaru STI or some crazy ricer. The interior looked like it was designed by aliens. Luckily, these aliens seem to have a strong grasp of human ergonomics. While it does take a little while to get used to the split instrument cluster, it became second nature very quickly. The digital speedo was easy to check quickly, and since it is built by Honda, it should still work in ten years, unlike that batch of digital gauges from the 80s.
So far, all I have said is that the Civic Si is brilliant. There is a problem though. At legal speeds, in traffic, or over speed-bumps, or even small pot-holes, it's miserable. When the roads were smooth and empty, the Si was more fun to drive than a lot of other cars that cost many times as much. I can honestly say that I'd rather throw a Civic Si around a twisty road than a Jaguar XK, but going up my drive-way was awful. Driving around downtown was awful. Driving in traffic was awful. It's not fast enough to be a track-day special, so any potential buyers need to really consider how much discomfort they are willing to put up with every day in order to experience just how much fun this car is when it's allowed to do what it wants to do.
Price: $27,275 (29,972 as tested)
Summary: Bi-polar. Brilliant for play, irritating for real life.
Exterior Design: 8/10 Gorgeous, except for the decals.
Interior Design: 7/10 Great. The red stitching makes the look.
Engine: 9/10 Revs so high and so freely, that it feels like 2/5ths of a supercar.
Transmission: 7/10 Smooth and sporty.
Audio/Visual: 6/10 Good, but nothing special.
Value: 7/10 You get a fun car that is in the shape of something truly practical
Overall: 6.5/10