Earlier this month I talked about needing a station wagon to haul around he who will be the newest addition to our little family. Station wagon, estate, touring, shooting brake… these all make sense to me.. Barring some shift in oil prices or the further breakdown of Minnesota roads, I won't be driving an SUV (really just a large tall station wagon). Barring blunt force head trauma, I won't be driving a minivan. A Mustang V8-powered Volvo 940 was compared to a supercharged M3-powered BMW 525i Touring. Verdict? BMW.
I'm still casually surfing the Internet for a station wagon that amuses me. Something that can haul the diapers as well as the mail. Something that has some style to it. Something that commands respect and awe from the other parents. More importantly, according to my wife, something that won't break the bank. Hey, she's the one who pointed out I still need funds for the old car projects.
Admittedly, I had all but forgotten the Volkswagen Fox two-door wagon even existed. Appearing briefly in North America somewhere between the late 1980s and the early 1990s, these Brazilian-built econoboxes wheezed and lumbered along with something like 81 horsepower from their 1.8-litre, longitudinally-mounted four-pots. The sedans shared styling cues with the Audi 4000 (80) and VW Jetta. The wagons, however, looked like an intoxicated union between a early Mk-2 Golf and a Communist-era Fiat police car.
This is not to say they were without their charms. Build quality is said to have been reasonable, seats were comfortable and held you in place well enough, and they handled like baby German cars. Today they have a small but strong following. And apparently they take to parts-bin engineering as well as, say, a certain blown 5-series wagon.
For example, take this 1988 Fox wagon. The 1.8-litre has been dumped in favor of a 2.0-litre, probably an ABA from a Mk-3 Jetta/Golf. The 5-speed transmission came from a 1993 Fox. Brakes are all 16-valve GTI, with discs replacing the rear drums. Gauges have been updated to a GTI 8000 rpm tachometer and 140 mph speedometer. The optional center console gauge package and Fox front spoiler have also been added.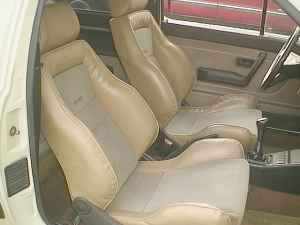 Non-VW-bin parts include a Eurosport exhaust, a modified camshaft with adjustable sprocket, an oil cooler, and an Neuspeed throttle body. Springs are also Neuspeed, and shocks are Bilsteins. The interior is capped off with power Recaro seats.. Seriously, what econobox has power Recaro seats?
One downside I see to this car is the two-door configuration. It's very cool in a latter-day Nomad style. However, hauling the kid in and out of the back seat could literally be a pain.
Another downside… it's just plain old ugly. While writing this I spent a little time in the photo section of  the Volkswagen Fox forum on vwvortex.com. There are no attractive Fox wagons. None of them would command respect from other parents driving new Audis and Range Rovers. They're just doofy old cars from the period when VW had its head up its ass.
While I applaud the ideas and time that went into building our feature car, I just can't see it holding my interest.
Actually, I'm already over it.
[ Craigslist ]