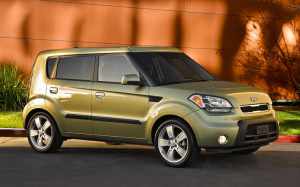 Check it out all you Canadian Kia lovers. While we were left in the cold when Toyota released the Scion brand down south, Kia is showing us some love with the new Soul. Meant to compete against the boxy Scion xB, the Soul will give Canadians a boxy (and fairly attractive) hatchback with a fuel efficient 2.0L 142hp engine. Buyers will have the choice of a 5-speed manual or a 4-speed auto, but the customization doesn't stop there! Follow the link to check out the accompanying options list to get a preview of just how over-the-edge some people are about to go with their new Kia. The real question is: can a Kia be c-c-c-cool?
I'm inclined to say yes, Kia can be cool. This is a solid design effort from a company known for making absolute garbage only 10 years ago. How things have changed…
Hatch should provide plenty of utility. But can Canadians and Americans accept that utility doesn't mean a ladder-on-frame platform and a V8 under the hood?
Don't believe what this image is telling you because this is not an off-roader.
If you thought your xB had a lot of options, check out these 4 pages and prepare to have your eyes opened (from kia-world.net)