By CarEnvy.ca @autobusiness
There are 31-year-olds who live in their parents' basement and volunteer at the soup kitchen. There are 42-year-old single mothers who work from home as angel investors. There are 88-year-old snow birds who drive to Phoenix every winter, not to golf, but to run in the marathon. Everyone has a story. Some more unusual than others.
These stories, and generalizations thereof, are what marketers zero in on like Obama on Osama, and vice versa.
Marketers, like politicians and terrorists, want to know all about us. They want to be our pen pals but they don't want to write back. That sounds a bit like stalking because it is. But the goal of marketing isn't just to creep, it's to sell.
Obviously, marketers can't talk to every single potential buyer – asking them what they like and don't like – that's too time consuming and too expensive. Fortunately for them, there are terabytes of cheap personal data at the ready. As buyers have opened themselves to the world of the web, giving away their innermost desires as a means of "sharing", marketers are now able to peg us with alarming accuracy. That's part of the reason why, even though finding one without corn starch is nearly impossible, we have 145 kinds of yogurt at the grocery store. It's also why Google Ads assaults my father with "Collector's WW2 Uniforms" ads whether he's checking out CarEnvy or IDF.il. It's also why we have cars like the Mercedes CLS63 AMG and its simply sultry Shooting Brake sister. Specificity of both supply and demand are on the up and up. Differentiating ourselves from the masses has undeniable appeal.
As a result, as any marketer worth his square glasses will tell you, there are infinite and one niches. Due to the abundance of data now available, these segments of the population are often diced so finely that the greater whole to which they belong is lost entirely. Marketers are effectively staring at Georges Seurat's A Sunday Afternoon on the Island of La Grande Jatte so closely that they're unable to see even a single parasol.
In marketing today, a man who likes fast cars, cold beer, and high-impact sports is as invisible as the parasol. He's too big to notice. And yet he exists, defiant of their ignorance.
Which brings us to the 2013 Ford Escape.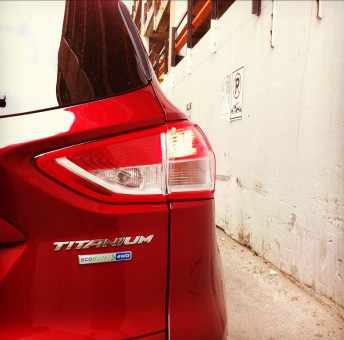 Based on a healthy helping of andectodal evidence and a loose pinch of sales data, Ford side-stepped the data landmine of marketing with its 1st and 2nd generation Escape. If Generic Man wanted a compact crossover, he bought an Escape because it was sturdy, brawny, and outwardly truckish.
So it wasn't the least bit surprising that Escape fans recoiled sharply when news broke that the old Ford Escape, the boxy stud that carried the Man Torch in the compact SUV segment for an impressive 12 years, was being put out to pasture in favour of a Eurotypic car-on-stilts. No longer would self-respecting fellows have a practical, purposeful, all-weather mode of transport, we thought. We, and I do consider myself part of the self-respecting set, were being shunned by the Blue Oval. Harumph, indeed.
Ford was gambling and they knew it. So sensitive to change were they that they flew a rag-tag crew of 4th-tier bloggers (and aren't all Canadian bloggers 4th-tier?), myself included, to the Escape's reveal at the 2011 LA Auto Show in the hopes of garnering some positive attention from someone, anyone. When the tarps were yanked, our worst fears were confirmed. The bricked simplicity of the 1st and 2nd gen Escapes were schucked like the husks of a million Taber corn for an uneven assemblage of far-too-fashionable design cues. The result was and is, at best, colour-sensitive. Suffice to say that only darker colours can properly hide the unpainted plastic panels and the barn-sized gap between the rear wheels and the wheel arch. The Ruby Red of my tester isn't the way to go. Stick to Kodiak Brown and Tuxedo Black for maximum curb appeal. The looks alone spelled "Doom" like only a first-person shooter could.
But now that I've spent a week with one, roughing up the city streets and ferrying family over the Thanksgiving long weekend, I'm not sure that belly-scratching-beer-swiggers were slighted at all.
First off, and perhaps most relevantly, the 2013 Escape with 2.0L EcoBoost is indecently quick. It skims pavement in a way that not even the driver-focused Tiguan can, much less the utilitarian and naturally-aspirated CR-V. 270lb-ft of torque at 3,000rpm gives the mid-range a brass-knuckled thump that's more like my dearly departed 350Z than a tall Focus.
The 2.0L EcoBoost really is crazy. Not only for the class, just period. It actually makes no sense. It's so fast that it's almost tough to recommend buying one. While this engine felt overmatched by the heftier Explorer, it bangs up against the other extreme here. This engine is probably perfect in the Edge, but that's pure speculation for the time being. Honestly, the 178 hp and 184 lb-ft of torque from the 1.6L EcoBoost would be more than adequate for daily duties and would be far friendlier at the pumps. The 13.7L/100km (17mpg) I observed during a week of almost pure city driving, save a single airport run to pick up my brother, is a hard to justify.
From a practical perspective, the Escape is unimpeachable. The ergonomics are laudable, save the expected MyFordTouch lagginess. The trunk is capacious. The back seats variably adjustable for all shapes and sizes. The cabin materials are plush and trapezoidy, giving a high-end feel throughout. Only some dangling door trim belaying that this isn't an S-Class. Which brings us to the economics…
The base 2013 Escape with the carryover 2.5L engine starts at C$23,149 but this loaded up Titanium was not a feeble farthing less than C$43,749. That's a lot of bulk to carry for the precious metal badge, even with the innovative kick-to-open liftgate and that distressingly racy engine. The sweet spot in the line-up has to be the SE FWD with 17″ alloys, SYNC, back-up sensors (C$350), Panoramic Vista Roof (C$1,750), and dual-zone climate control for C$31,549. At that price, the new Escape is competitive and presents a more daring option than the dependable default: Honda's CR-V.
In aiming for the everyman, the Escape, with its merry string of LED DRLs and kick-what-may attitude, is definitely the guy's guy in the room. If you're 30 or 40 or even 80 years-old and want to feel like the rootin' tootin' guy's guy you admired (or were) in high school, look no further. Just take it easy on the options list, Mr. Parasol.
[Photo credits: author]