Cars can be deadly dangerous for many reasons. Some cars can kill you with their eccentric handling characteristics (Porsche 911). Other cars can smite you with spleen-crushing acceleration (Caterham). And then there is the kind of heartless automotive wench which can kill you with nostalgia.
Being a child of the 1980s, that hedonistic decade of Reaganomics, Miami Vice and cocaine, I have a soft spot for slab-sided Audis. Our family had both a 1985 100 and a 1985 90. They were not the interesting 200 Turbo or 90 Quattro, but they exuded a German sophistication that belied their Volkswagen heritage without swinging their junk around like a Porsche.
Now, when I come across a distressed example of 1980s German rally technology for the street, I get weepy and think, "How hard can it be?"
This particular heap of bad ideas landed on the Minneapolis, MN, Craigslist and I have to admit I thought about calling the seller. I couldn't help but notice the "good" attributes hugely outweighed the "bad" and applauded his honesty in stating the "bad" were not his fault but rather came with the car. Check it:
The rear windows do not work, but the front ones do. The parking brake doesn't work, but that's okay because he doesn't use it. Fuel leaks can be fixed. The car has not only new brake pads and a new Blaufergnugen short shift kit (installed), but also a new fuel filter and thermostat (not installed).
Finally, the rust is ugly but not dangerous. That's great! One facet of danger has been removed!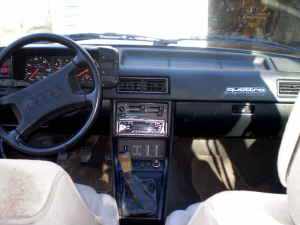 But this is all crap, a delusion brought on by fuzzy memories that may or may not be true. While the Audi 90 died early in a road accident, the 100 lived on as absolute garbage, a nightmare of electrical gremlins and flimsy automatic transmissions. We couldn't even get anyone to steal it.
This Audi 90 has all the makings of a rose-tinted trip through barbed wire. Pieces will continue to break and fall off until the new owner runs for the hills in mental and financial ruin. I mean, the car has scabs for God's sake! Scabs!
The seller is looking for $950 US, but is willing to entertain reasonable offers. Here's an offer: I stab myself in the arm, smack you in the head with the fuel filter, and then we burn the car to the ground.
How hard can it be? Harder than you think, smart guy.
[ Craigslist ]