The Frankfurt Motor Show 2009 is taking place as we speak. Unfortunately, our German correspondent isn't feeling well so she couldn't make it herself. As such, we've compiled a list of the most important reveals from Day 1 in her absence. Frankfurt is the first major show of the Fall season and manufacturers like Audi, Bentley, Rolls Royce, Maserati, VW, Lamborghini, Ferrari, Aston Martin, BMW, and Mercedes have pulled out all the stops. So you'd better follow the jump because there are no less than 17 very interesting reveals.
Rolls Royce Ghost. We've seen it before, but now it's official. The baby Roller is here with a 563 bhp 6.6L V12 and a 0-60 of 4.7 seconds. That's properly quick for a big luxo saloon.
Audi R8 V10 Spyder. Remind me, why would you want a Gallardo Spyder again?
Lamborghini Reventon Roadster. Uhh, CDN$1.75 million? 661hp. Even if they're only building 20, I'll still take a less-exclusive One-77.
Audi E-Tron. Electric supercar recipe: Take one Audi R8, remove engine, add batteries with 3,320lb-ft of torque. Viola!
Ferrari 458 Italia. Oooooh, yellow. The colour doesn't really do it any favours though. Despite what I've read about how the 458 is a "return to good-looking Ferraris", I just don't see it.  What do you think?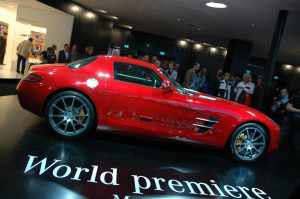 Mercedes SLS AMG. Live and in the flesh, looks better than the glorified photoshops Merc's PR dept pumped out. Get the low-down here.
Maserati GranCabrio. Top-less version of the GranTurismo. We like.
VW Golf R20. A hotted-up version of the GTI with AWD and the engine from the S3. That'll be 270hp and a 0-60 in 5.5. DSG or manual, take your pick.
VW E-Up! Punctuation infractions aside, it's completely electric and VW wants to have it in production by 2013. They also think it'll be the 21st century Beetle. Better make it cheap, then.
MINI Coupe & Roadster. Both 2-seaters. Both are headed for production for 2011. Not terribly exciting because the Coopers already have unusable back seats.
BMW ActiveHybrid X6. Hybrid? Must be green then. Well, it has 575lb-ft torque and 485hp and a twin-turbo V8. But it can travel 60km on electric power alone. Odd creature, this one.
Mazda MX-5 Superlight Concept. A 995kg MX-5 with no windscreen and no roof. Kind of like a Caterham MX-5. No plans for production though.
Aston Martin Rapide. The 4-door Aston Martin for the family man. It wasn't a well-kept surprise though, as you can see here and here.
Abarth 695 Tributo Ferrari. Ferrari fettled with an Abarth 500 Esseesse and came up with 180hp, and a further dilution of the Prancing Horse brand.
Bentley Mulsanne. As we've seen before, but now in blue! Engine specifics include a 6.75L twin-turbo V8 with 505hp and 752lb-ft of torque. And Bentley claims that it isn't a diesel. Ya, I don't believe them either.
Ford C-Max. Like a van, but smaller and cooler. Using Ford European C platform architecture, think of the C-Max like a Euro-American Mazda5. Oh, and it's coming to North America next year.
BMW EfficientDynamics Concept. Remember me? Ya, earplugs still needed when the diesel engine is running.