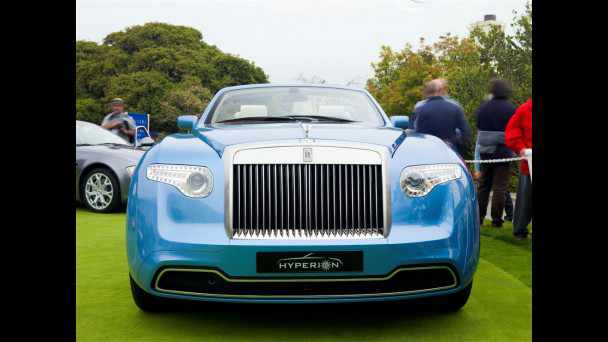 While a "deal" is a relative assessment, some are more obviously attractive than others. Paying CAD$7,481,410 for a car might not strike you as being a deal, especially when the car is question is based on the a (meagerly-priced) $450,000 Rolls Royce DHC.
The car in question? Pininfarina's one-off Hyperion. And if you've been following us for a while, I think you'll know the designer.
Follow the jump to see why I'm calling it CarEnvy's Deal of the Day.
Of course, the designer is none other than Jason Castriota, the man currently working on Project M, yet another one-off car.
The Hyperion is a bespoke car that was designed for an undisclosed client by Mr. Castriota when he was still working at Pininfarina. As you'll recall, he's now at Bertone. The Hyperion was released at last years Pebble Beach Concours d'Elegance, the annual concours to end all concourses. Now, it's for sale on James' List, the same place where 7 of the 20 existing Lamborghini  Reventon's were for sale last month at the same time. Clearly, James' List is the authority in high-end car classifieds.
Of course, the Hyperion comes with the also-one-of-a-kind Girard-Peregaux tourbillon timepiece. The watch can be placed in the centre of the Hyperion's dash or it can be removed and attached to a wristband. To paraphrase Larry David, that's pretty, pretty, pretty sweet.
So you see, seven-odd million is a princely sum, of that there is no doubt. But when the value of a product exceeds the asking price, then it becomes a deal. That, ladies and gentlemen, is what we have here.
[JamesList via Autoblog]