By Mark Atkinson
I've gone on about the Audi R8 in some detail already here at CarEnvy. I've loved its emotional appeal, and defended its honour as the best supercar on sale today. I'm pleased to announce that I now have a new car to root for: the Audi R8.
Say what?
Gimme a minute here to explain.
It's amazing how three little characters completely change an automobile. This isn't just any ordinary R8 – it's followed by 5.2, which denotes the displacement of the new Lamborghini-derived V10 engine. It's also the basis for the extreme R8 LMS GT3 racecar, and also the new lightweight road-goaing R8 GT.
But in the 5.2, it pours out 525 hp, which is nothing to sneeze at, especially when this mountain of aluminum, magnesium and unobtainium can rev cleanly all the way to 8,700 rpm. That kind of range strains modern Honda Civics. Torque is a reasonable 490 lb-ft at a high 6,000 rpm, helped by Audi's race-proven FSI direct-gasoline injection.
There is only one transmission – well, only one you should consider – and that's the standard six-speed manual with the sexy exposed gate, giant gear knob and clack-clack action. The old herky-jerky Lambo-derived S tronic is not the same as the dual-clutch S tronic/DSG found in other Audis and therefore isn't worth your consideration. Even with the stellar headliner horsepower, the manual clutch is easy to modulate, and the R8 doesn't bite at all. Because Audi lets the big V10 rev naturally, there's none of that immediate low-torque boot that makes twin-turbo Porsches such extreme weapons. But it does rev cleanly, accelerating very, very quickly.
Audi claims the R8 5.2 will run from 0-100 km/h in 3.9 seconds – which is over half a tick faster than the V8. And it tops out at 312 km/h, an increase of 12 from before.
And the noise. This will perhaps be the sole reason why the R8 Spyder succeeds – getting the driver closer (aurally, anyway) to the glorious roar.
The rest of the package is upgraded to compensate for the heavier engine and increased power. The 10-spoke wheels are now 19-inches – one larger than those on the 4.2 – but no wider. The front and rear wishbones are constructed out of aluminum to save unsprung weight, which is put right back on again with the eight-piston front callipers and four-piston rears. The magnetic ride calibration is harder too, giving a firmer hand over rough pavement, but never rigid enough to get thrown over broken roads.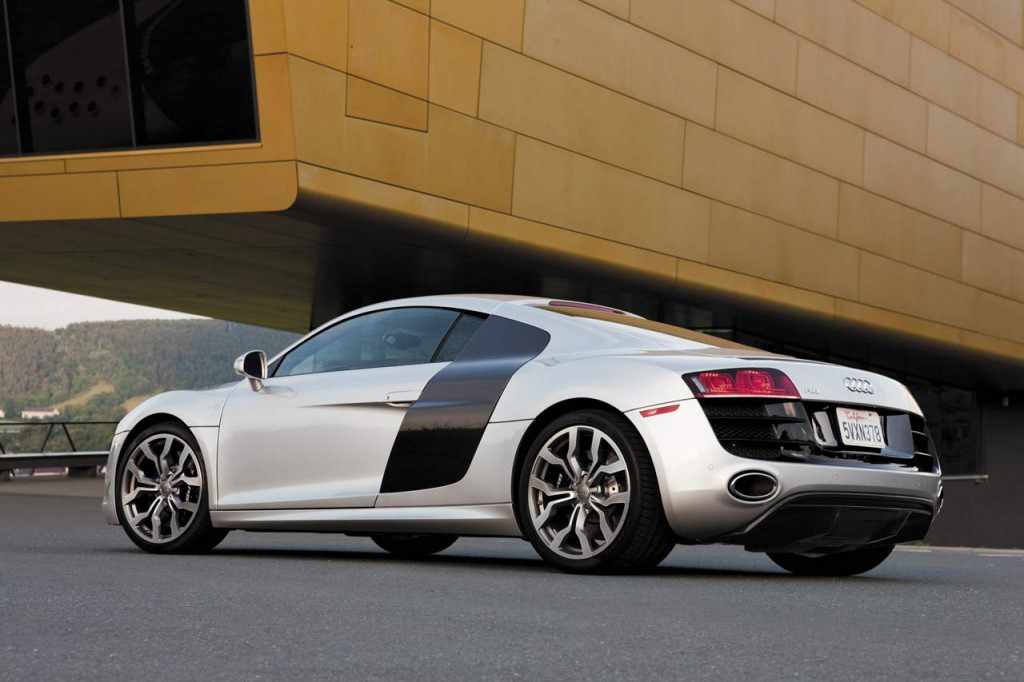 Get out and drive and the 5.2 is a hit. Not only with the rubber-necking caused by its presence, but also with the pilot. The controls are perfectly placed, the steering wheel is right sized and full of information. Like the normal R8, there's quattro all-wheel drive, but the torque-bias is 85 percent to the rear, meaning it drives more like a sports car than an A4.
The car is happy to play in virtually any conditions – my first experience was a drizzly, cold, blustery October day, and the R8 5.2 felt part tank and part psychic: unstoppable in the weather and not over-eager to show me it's wild side.
Unfortunately, all of these excellent changes make an even more extreme dent in the wallet; it makes the $141,000 R8 look like a bargain. The 5.2 FSI starts at $173,000 – a price gap you could otherwise use to purchase a fine example of the stereotypical mid-sized automobile. The previously mentioned R tronic adds $11,000. The Carbon Sigma Package takes your $4,300 and transforms into panels of carbon fibre slathered all over the interior. Even at this level, metallic or pearl paint finishes need an extra $800. The Enhanced Leather Package puts $4,000 worth of cow hides over the parts that the Carbon Sigma Package doesn't hide. And an Alcantara roof liner is $2,000 to complete the look. More carbon in the engine bay is $4,500, while the sideblade in the same material is $2,900.
Check all those add-ons and your R8 5.2 will cost $202,000. Hot into Ferrari territory… But how many full-load cars will leave the factory? A handful, at best.
So logically, the R8 is not a value proposition… But emotionally, it just grabs hold of your heart after you've driven it. Few of them will actually make it onto Canadian roads, let alone Canadian collections. But Audi is a brand on the rise, and the R8 5.2 is the perfect halo car – sexy, superlative, secure, but just a little separated.
Price as tested: $190,300
Summary: Audi moving the supercar goalposts.
Exterior Design: 9/10. Still drops jaws after three years.
Interior Design: 8/10. Inspires lots of dash-stroking.
Engine: 9/10. An 8700 rpm fuel cutoff. 'Nuff said.
Transmission: 8/10. Lovely gated shifter.
Audio/Video: 8.5/10. Bang & Olfusen system drowns out engine, if you really want that.
Value: 5/10. No car that you could trade for a house is ever a value.
Overall (not an average): 9/10
[Photo credit: Flikr/andrei12_34]