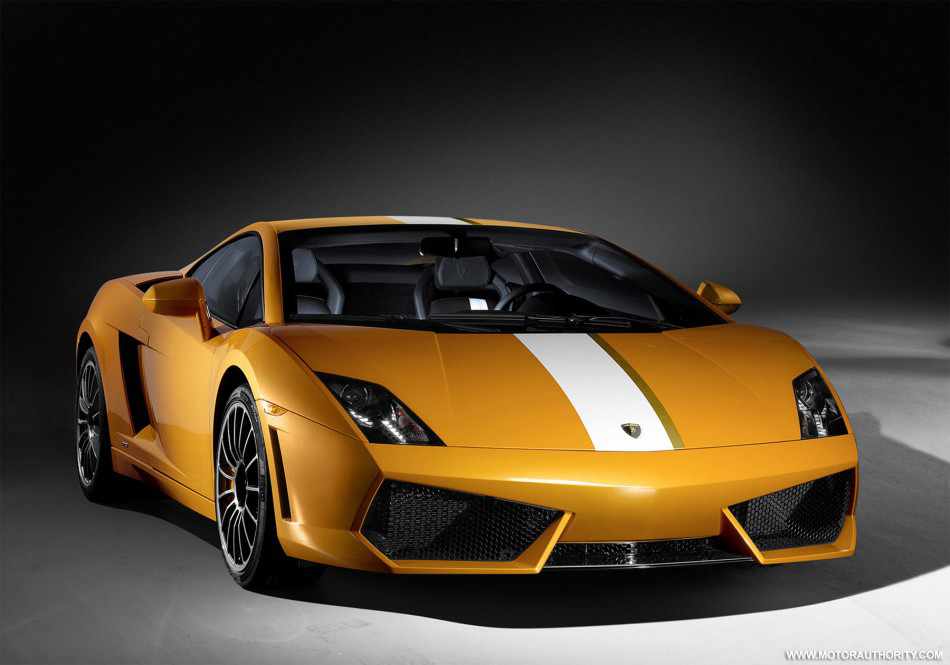 Wait Peter, you're saying, don't you mean the LP560-4, not LP550-2? Why did the first number drop by 10, and the second by 2? And who is Valentino Balboni?
Well, Lambo has decided to make a lighter, rear-wheel-drive version of its AWD Gallardo. The "2″ indicates the number of wheels driven, and the 550 is the power output for this new, less expensive model. As for Valentino Balboni, it's called Google – use it.
Though to call this LP550-2 an entry-level model would be to miss the point. I'll tell you why and show you some spyshots below.
To call this LP550-2 an entry-level model would be to miss the point because only 25o are being made. So it's more exclusive, yet lighter by 30 kg and cheaper. When is the last time a company, especially a maker of exotic Italian tractors machinery, made a more exclusive driver-centric model and decided to charge a little less for it? The answer is never. Oh, and it'll only come with a manual, no stodgy E-Gear nonsense. Basically, this is the Gallardo we've been waiting for.
Or is it? While purists will undoubtedly applaud the decision to produce the LP550-2, but purists aren't buying Gallardos in the first place. It's mostly software/record label moguls or just plain playboys, and that much power in a RWD Italian Bull will cause many more road accidents by these hacks because they haven't the faintest idea how to drive. At all.
Plus, it takes away the potential to use the Gallardo during Canadian winters. Yes, I just suggested what you think I just suggested.
Will this replace the Superleggera in the new Gallardo line-up? Despite having the same wheel design as the previous-gen Superleggera, I'd say no. After Stephan Winkelmann promised to deliver a new model every year, he had best save the Superleggera for 2011.