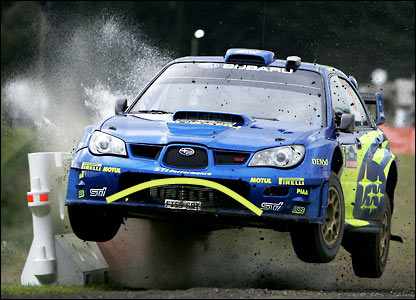 After only a single season slogging through the mud with the big boys, Suzuki have announced plans this week to scrap any plans at competing in the 2009 World Rally Championship.  Which is most certainly a shame, but not in itself the reason for this choice of headline.
If you'd like to know whether we're joking or not about this headline, follow the jump.
While it will most definitely be a loss for the WRC to lose Suzuki after an impressive first year in the series, what most rally fans are particularly gutted over this morning is Subaru's announcement of their withdrawal from the 2009 World Rally Championship, thus leaving only five-time WRC Championship winner Sebastien Loeb's Citroen team and not-dead-yet-but-might-fall-over-if-you-breathe-on-them-funnily Ford as the only two factory teams currently in contention for the 2009 WRC title.   Of course, there may be plenty of private entries into the series as well, and there's no way to know for sure exactly what will happen…but it sounds like a very fair fight, doesn't it? SWRT Press Secretary Tom Tremayne said that the team was as shocked (if not moreso) than the rest of us:
"Subaru started talking to us about budgets last Thursday and Friday and then the decision was made late Saturday night. As of right now, the team has no further comment on the situation."
And just what will become of ProDrive, who have essentially made Subaru "cool" to the modern youth around the world through the WRC? Dave Richards (ProDrive Chairman) said in an official press release about this sad news yesterday that:
"Although this decision closes a significant chapter in Prodrive's history, our focus now turns to the future."
Further down in that press release, ProDrive states in no uncertain terms that it is looking forward to re-entering the WRC in 2010 under the new regulations, at which point it looks forward to supporting a new team. And furthermore, their concentration is on moving the former ProDrive WRC employees around within the company, rather than kicking them out in the street, which is of course a very good thing, considering.
With 2003 WRC Champion Petter Solberg and teammate Chris Atkinson possibly out of drives next year, and Sebastien Loeb having threatened to leave if the 2010 S2000 proposal went through, what will the future hold for WRC?  Clearly, just like F1, it must evolve or die.  It seems as though they're better suited to the task than F1, though—after all, uncertain terrain is the entire point of the series.