It couldn't have been planned more perfectly. The seemingly preordained coordination of events resolved themselves better than the masses who flock to fitness centres in January. Just as dozens of centimetres of snow were tumbling their way down from grey skies, a Toyota with 4WD arrived at my doorstep. What better to tackle the unplowed residential roads of downtown Edmonton than a vehicle with true 4WD, not just AWD, from a notoriously reliable automaker? Clearly, Neptune had aligned with Orion's Belt in the Third Sphere.
I spent the entirety of my time with the 2011 Highlander under conditions where the 4WD system was in its element: at lower speeds and in deeper snow. There were no highway drives where the frictional losses of the 4WD system hurt fuel economy without providing much benefit, just city slogs in and out of unkempt residential neighbourhoods, dense city traffic, and parking lots that hadn't yet seen a Bobcat.
The Highlander was mostly a pleasure to steer for the few short days that I had it, it inspired confidence when the road conditions were at their bitter worst. Instead of cowering from snowbanks, I tested their fortitude and that of the Toyota at the same time. Every trip was an ego-inflating journey , even when the Leafs were in town and I wondered whether the Ontario-plated Highlander would be safe in Oil Country.
Not everything was rose-tinted though, far from it. I have to say that one of the strangest quirks that the Highlander displayed was its propensity for turning off the rear window defroster and side mirror defrosters after a few minutes. "I wasn't done with those!", I screamed at the unlit button. "It's -30C outside and I could kind of use the extra visibility in this SNOW STORM." Whoever designed the auto-shut-off for that feature hasn't lived a day in Canada.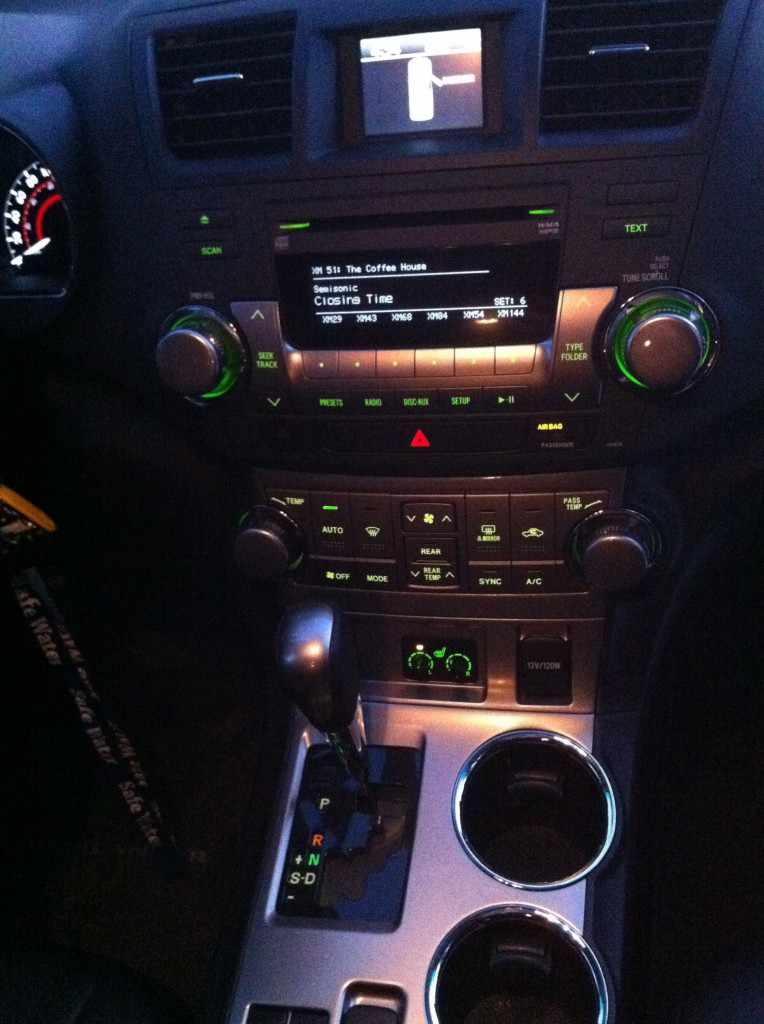 Another hiccup was the brake pedal. Sure, it could be used to stop the car, but it was about as progressive as Stephen Harper. One second you're driving along and the next your chiclets are sprinkled across the dashboard. Unless your girlfriend is a dentist, like mine is, that won't be cheap to fix.
Then there was the poor little heater. It must've been pulled from a car half the size because it stood no chance of heating up the voluminous Highlander in anything under 25 minutes. Blessedly, the seat heaters were up to the task and shone bright while the space heater sputtered.
Furthermore, my meager 6'3″ wingspan was no match for the centre console dials designed for the tallest 1%. Designing driver controls for someone so attenuated is at odds with the 3rd row capable of accommodating only the most abbreviated of kin. When the 3rd row is up, it isn't only the kin that need to be condensed but the cargo as well. My MEC shoulder bag took up much of the trunk.
As an avowed urbanite, I'm quick to judge vehicles with off-road pretences. I personally have notime for boulder climbing. Edmontonians, though, are firmly fond of their 4-wheel drive – possibly because heavy snow falls leave such a lasting impression in our memories. So when it's time to buy a new personal or family vehicle, we've been conditioned to recall unpleasant and even life-threatening situations that we'd do anything to avoid repeating. Even at the expense of 30+L/100km and $0.979/L gas, as I experienced.
The thing is, the conditions that befell Edmonton that mid-December week, and are befalling it yet again as I write this, aren't representative of our Northern Experience. For 3-4 months of the year, sure, the snow is deep and the roads are icy. But snow tires, like the Blizzaks fitted to my tester, were at least as important the number of wheels sending power to the icy pavement.
There prevalent (mis)conception here is that 4WD is needed for trucks and SUVs, whereas as snow tires are only needed for cars. At least that's my perception. During a snow storm, the skewed ratio of truck-to-cars in the ditch along Highway 2 seem to bear this out – it's all trucks. In my experience, any non-sporting vehicle with traction control and winter tires is up the task. Not that the 4WD system didn't make easy work of the conditions, it absolutely did.
The Highlander's greatest appeal though, its most potent armament, was not the competent 4WD system nor the admirable bun warmers. It was that deservingly bestowed quality that lies behind all three-ringed badges. It was a promise of unerring mechanical and electrical reliability, that we should perish the thought of mechanical breakdown altogether.
Not I'm not advocating for unreliable vehicles, let's leave those to the disillusioned enthusiasts we all yearn to be, but nor should reliability be the defining characteristic of a vehicle. It's like having a girlfriend whose best characteristic is her punctuality. Not a bad thing in and of itself, but hardly the whole package necessary to keep a relationship engaging and fresh for years to come.
So while the Highlander triumphantly scaled the snow-covered mountain of adversity in my time with it, it lacked the qualities that I look for in a long-term partner. The maligned and adversarial defrosters, Kevin Garnett-inspired console design, and inadequate heater conspired to seal the Highlander's fate. Like Russell Brand before he found Katy Perry, I guess I'll have to keep looking.
In typical urbanite form, all photos were taken by the author using an iPhone 4.
Thank you to Toyota Canada and Pat Pegg for providing the vehicle for the purposes of this review.