Subaru makes some quirky cars for quirky people. If you feel like saving the planet but need all wheel drive or abhor the idea of some battery-powered wienie-mobile, a Legacy or Forester is your ride. Subaru also makes fire-farting rally cars for the street, duking it out with Mitsubishi Evos for tuner bragging rights. Are you fast and furious? At the same time? Do you get misty watching Ken Block wheel his WRX around the El Toro air field? Good. This is your bag of fun.
A long time ago Subaru made goofy little appliances shamelessly copied, like many early Japanese cars, from other companies' designs. Witness the Datsun SPL-311 roadster; think MGB that would actually run in the rain.
Today on How Hard Can It Be? we feature a 1962 Subaru 360. This little box, the first automobile produced by Fuji Heavy Industries' car division, was based on a German DKW design, of all things. So was its engine, a rear-mounted 356 cc 2-stroke inline 2-cylinder, which at the beginning of production spat out a not-so-fire-farting 16 horsepower. 0-100 kph runs were measured with a lunar calendar and fuel use was roughly double the advertised 3.6L/km. Amazingly, Subaru hacked together almost 400,000 during a production run spanning 1958 to 1971. So hip and happening the 360 continues to be, a convertible is featured in the animated Pokémon cartoon series.
This example looks rough and doesn't run, but you knew that. The fiberglass roof panel comes off, but we're not sure if that's a bug or a feature. It sports an optional radio, but oddly no air conditioning. It comes with extra parts, though the seller is unsure of what they are. Fenders? Hood? Could be anything, like the missing ceramic tiles off the Space Shuttle. Whatever, it will be hard to bolt anything to the inevitable rust.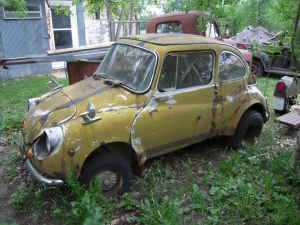 The seller states they have owned the car for years but since giving up meth has decided to off-load this wart is in a pickle since he will soon be moving and has no room for something that would fit under a king-size bed. Coincidentally, or not, there are several other basketcases lurking in the background. They have nothing to do with this Subie, but it's worth noting this seller has a yard full of interesting stuff that are also presumably for sale.
Somebody should buy this imp. It's cute and rare, though probably a little overpriced depending how horrible it is extensive are the required repairs. If you cut the roof off you could possibly get it featured in the live-action remake of the Pokémon movie, due out sometime after the apocalypse. For us, the deal-breaker is the lack of air conditioning.
[ Craigslist ]